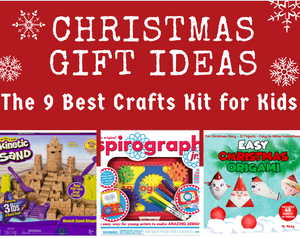 This is Fun Gifts for That Your Kids Will Love
There is nothing cuter than seeing the excitement on a child's face while they tear into gifts early on Christmas morning, especially when you've picked out something that they absolutely love. Although choosing what to get your kid can be somewhat overwhelming, given that there's a seemingly endless amount options when it comes to children's craft kit, there are a few tried and true options that are sure to put a smile on your kid's face.
This is fun gifts for that your kids will love. And all gift ideas are under $20, so you won't have to break the bank come Christmas time.
My Giant Busy Box Craft Kit Kids Art and Craft Activity
For the smallest crafters, this box of craft projects from Alex Discovery provides options aplenty for creative crafts. Designed for children ages 3 and up, it comes with everything they need to make 16 different projects, including buttons, feathers, glue, crayons, doilies, and more. Project options include farm animal collages, tissue art, and paper bag puppets.
 
Buy on Amazon 
I Love Unicorns Kit
This kit contains everything they need to make six crafts they can wear, play with, and hang in their room—including pom poms, felt, yarn, card stock, glitter-filled plastic vial. The unicorns aren't just fun to make, they'll make true believers of kids.
Buy on Amazon 
Easy Christmas Origami  
Designed by a five-year-old, this is an origami book like no other, which are often complicated and difficult for kids to follow. In Easy Christmas Origami, your kids are going to learn how to magically transform a piece of paper into cute animal figures in no time at all!
This book includes 12 various origami figures: cat, llama, reindeer, bear, duck and more, 48 origami paper - no need to purchase additional items, and 24 origami paper for coloring. Easy-to-follow instructions and clearly outlined diagrams. Each project in Easy Christmas Origami also features a QR code for quick access to a video tutorial of a young origamist folding the same piece.
Buy on Amazon 
Magnetic Mini Tile Art
This craft kit lets kids express themselves on magnetic tiles, which they can then display on their lockers, on the refrigerator, or on any other metal surface. From unicorns to hearts, they can create images and put them on display. Designed for ages 8 and up (the magnets can be a choking hazard for younger kids), it comes with everything little girls and boys need to create 12 2-inch square tiles including the magnets, paint, and a paintbrush.
Buy on Amazon
Inspire Poster Kit 
Perfect for tweens and teens, this craft kit helps them make a super cool and inspiring piece of wall art. It comes with all sorts of items they can use to decorate the 22 small boxes, including feathers, hearts, pom poms, card stock, and more. The real stars of the project, however, are the pre-printed, inspirational quotes crafters can arrange, including those such as "Collect moments, not things," "Rise by lifting others," "Dream big," and more meaningful messages. Once complete, they can hang it on their walls to remind themselves of these important ideas daily.
Buy on Amazon 
Spirograph
Jumbo-sized pieces make creating Spirograph art fun and easy for little hands, and an easy-to-carry drawing tablet doubles as a work station and handy storage case to keep everything neat. The set includes easy-to-use gears, 5 washable markers, 24 pages of design paper and handy instruction guide.  
 
Buy on Amazon 
Create Your Own Window Art
With 12 suncatcher shapes, 8 vibrant window paints and an acetate sheet to create personalized window clings, this kit makes for the perfect rainy day craft or group activity. When you're finished painting sun catchers, trace the illustrations from the included Design booklet onto the acetate sheet, or create your own unique designs. Display your colorful sun catcher creations using the included cording and mini suction cups which attach to windows, mirrors and other glass surfaces.  
Buy on Amazon 
The Beach Sand Kingdom Playset
The Beach Sand Kingdom playset includes 3lbs of Kinetic Beach Sand and everything you need to build real sandcastles! Different from the smooth feel of classic Kinetic Sand, Kinetic Beach Sand is made with larger grains of natural sand and feels just like wet beach sand! It easily molds and never dries out, so you can build again and again!  
Buy on Amazon 
Hide & Seek Rock Painting Kit
Creativity for Kids hide & seek rock painting kit is weather resistant and perfect for you, your friends and family to paint rocks to hide outdoors to spread kindness, encouragement and happiness throughout your community – one rock at a time! This rock painting kit for kids gives you everything you need to paint, decorate and hide 10 rocks! The hide and seek rock painting kit includes 10 natural river rocks, weather resistant paint (8 colors) and waterproof transfer designs (similar to temporary tattoos), tracking stickers, 2 paint brushes, transfer sponge and instructions.  
Buy on Amazon 
Merry Christmas and Happy New Year!

This post contains affiliate links, which are at no extra cost to you.
---