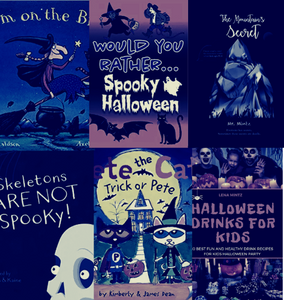 The Best Children's Halloween Books
The Halloween celebration has brought a lot of fun and terror to all of our generations. We all love Halloween, and there are many ways in which we can celebrate this spooky time, but we can't forget a classic activity for this night: scary stories.
Here are the top 10 Halloween Books for kids, a fun and educational way to amuse and also scare your kids. Are you ready?

A witch and her cat fly on a broom, as the wind blows the witch's hat flies away, then her bow and wand. Three animals find all that is missing, but they want a broom ride in return fro them. Will there be room enough on the broom for so many friends?
Buy on Amazon
This is a story told by a mountain who seems to be a normal one, but things that seem normal aren't always that way. Reality clashes with fantasy in this interesting story. Dive in and find out what the secret of this mountain is.
This interesting book contains illustrations that will catch your children's attention, no matter their age. This book drives imagination with a simple but interesting dialect, and it will be the best way to entertain your children, even inspire them to create their own stories.
Buy on Amazon
A spooky bus with ten silly ghosts wanders through the city picking up some unwary passengers; who do you think they'll pick up on this dark Halloween night?
Buy on Amazon
Spooky Pookie
It's Halloween! What will little Pookie decide to wear this year? There are hundreds of options and Pookie tries on costumes one by one, but he can't find the right thing to wear. Spooky Pookie needs help. Are you up for it?
Buy on Amazon
The Itsy Bitsy Pumpkin
T
his gently spooky twist of "The Itsy Bitsy Spider" makes a lullaby perfect for Halloween - a little pumpkin is trying to find its way home! And with the help of a witch friend, he'll soon be back home.
Buy on Amazon
Skeletons are not Spooky
Thinking about everything skeletons do for us, we might wonder why they have such a bad reputation for being creepy. Maybe they just want to have a little fun. Full of adorable illustrations, this book is excellent for early readers.
Buy on Amazon
The Little Old Lady Who Was Not Afraid of Anything
Once upon a time, there was an old lady who wasn't afraid of anything. However, on Halloween night, as she walked through the woods, the old lady heard something in the dense darkness. And the little old lady who wasn't afraid of anything had the fright of her life! Do you want to find out what are the things the old lady heard?
Buy on Amazon
Would You Rather... Spooky Halloween
This fully illustrated book helps your children to improve their thinking skills, all you have to decide is which side would you rather… There are no right or wrong answers - the only rule is to have fun!
Buy on Amazon
Pete the Cat
Pete loves Halloween and candy, but he doesn't like scary surprises. Get to follow Pete as he takes on a house-to-house candy hunt. Walk along with him while he finds out what's behind every door...
Buy on Amazon
If you're looking for unique Halloween ideas to surprise and entertain your kids, Halloween Drinks for Kids is the best option.
Some of the tips you'll discover in Halloween Drinks for Kids are fun recipes for Halloween drinks, how to create a Halloween-inspired atmosphere, fun puppets for an entertaining show, and many more surprises.

Buy on Amazon
We invite you to discover all of the incomparable surprises each of these books has to offer, but we warn you will feel a little fear under the sheets… Think twice if you feel like reading them before going to bed, would you dare?
---