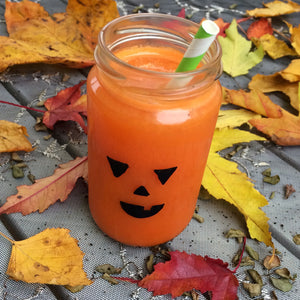 Scary drinks for kids on Halloween
Halloween is a unique and fun time of year, many people from all over the world celebrate this night of terror, costumes, food, and drinks. Kids look forward to Halloween, it's a night of fun and "scary" gifts, candy, and scary drinks. If you want to surprise the little ones, then this post is for you.
Decorating on Halloween Night
Decoration in Halloween is one of the key factors. Building a scary environment is the key to success at this festivity. Food, drinks, costumes, everything must go together. With some creativity, you can bring fear to the table when it comes to sharing, and surely you will surprise everyone, they will be "terrified" if you prepare some original scary drinks. 
Easy and scary drinks ideas for kids
Kids dream of Halloween night, they think about putting on their pumpkins to ask for candy or seeing some trick, they certainly give the touch of joy and fear to Halloween night with their charismatic costumes. But if you want to surprise, some scary drinks are the best option. You can download our templates to surprise everyone on Halloween night. 
●  Orange Juice Punch
An orange juice punch is a good easy idea to prepare as a drink on Halloween. It will have an orange, bubbly appearance with the impression of being a poisonous juice, the ingredients are easy to find; you will only need lemon juice, apple juice, a sachet of orange powder and a little water. It is a simple drink ideal for children to enjoy.
●  Frankenstein's Drink
Frankenstein is a popular character on Halloween night that you can never miss. Imagine that your Halloween party drink is some "toxic fluids" from Frankenstein. A thick, green liquid will give the table a "creepy" impression. Ingredients such as green apple pulp, a little sparkling water, and green jelly are necessary for this toxic and delicious drink, which will no doubt please all the spoiled of the house.
●  Eye Drink
The "terrible crazy eyes" loose everywhere on Halloween night can never be absent, add them to a soda drink and with a few sweet gummies in the shape of eyes and you will get that funny look to the table, perfect for children.
●  "Ghost Hand"
Another great idea is the "ghost hand" that will go floating in any drink, it adds a little "horror" to the children's drinks. To prepare this spooky drink you need latex gloves to fill them with water and freeze them and finally add them to the drink you wish.
●  Bloody drinks
To make your Halloween night even more "terrifying," add bloody drinks, with a little strawberry or cherry juice, a red vegetable coloring will make a "spooky" drink made of "blood" that will frighten on Halloween night, children will have fun scaring others with a little "blood".
These are just a few of the many ideas you can use for scary Halloween drinks, a little creativity, and simple ingredients are enough for kids to enjoy delicious "scary" drinks. The fun will always be on your table with "spooky" and fun drinks for kids. 
"Hallween drinks for kids" with the 10 fun and healthy drink recipes for children's Halloween parties is the guide you were waiting for to surprise everyone on Halloween night, you can download it now from Amazon and prepare all these fabulous drinks.
---