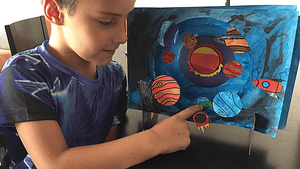 How to Make a 3D Solar System Project for Science Fair or School
The solar system was formed nearly 4.6 billion years ago. Beyond our solar system, there are many galaxies. Every day we learn something new about them.  Let's learn to create a DIY solar system using a handful of craft supplies and our solar system template.
If you have inquisitive children and they are wanting to know more about space, this solar system project will be the perfect activity for kids! It's sure to be educational for them as well. 
Use the following materials for this project:
Ordinary paper (use it to print out our templates with planets and rockets)

Hard paper to make the background of the universe (you can use a cardboard package, cereal box, or watercolor paper)

Felt pens (to color planets and rockets)

Paints (to color the Solar system)

Glue

Cardboard (to make the holder)
 Follow the below steps:
 

Print out the templates of planets and space vehicles on ordinary printing paper.

   

After that, glue them onto the cardboard sheet or cut them out to  use them as a template to draw the space objects on the cardboard sheet. Download the templates here.

 

Cut out all the elements and color them with felt pens.

 

Take the elements of the planets and space vehicles and glue them one by one to the cardboard sheets. Use the tips we provide. You can also refer to the real planet arrangement map, which you'll find attached with the templates.

 

Take any cardboard box you have at home (like a pizza box), and cut out the base for the model of the universe.

 

Put the Solar System model on the holder, place the sheets one after another – from the biggest circle to the smallest one. 
The model is ready!
Use our solar system template made from cardboard and construction paper to help teach children about the planets. Or use it as an idea for a science project in science classes or during science fairs. This is an easy Solar System project coupled together with so much fun!
---