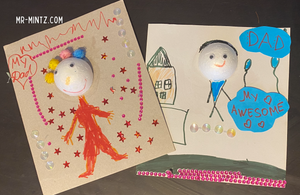 Creative Father's Day Card for Kids to Make
Hands down, the best gift you could give Dad for Father's Day is quality family time, complete with a few Father's Day activities. But if the kids want to go the extra mile for Dad, there's nothing better than a handmade creation.
Well.. with Father's Day just around the corner, we have a fabulous little DIY card for you to make, complete with our printable to help kids to write about their Dad's and create a momento that he will treasure for ever! Get your "All About My Amazing Dad" printable here.

If you would like to make the card idea for Father's Day, you will need:
* Polysterene Balls
* Felt Tip Pens
* Pom poms
* Googly Eyes
* Stickers (hearts, stars, rhinestones - everything you have at home)
* Piece of cardboard (in any colour)


1. Cut your polysterene ball in half to make your face.
2. Colour your face in like your Dad!
3. Glue on pom poms to make hair like your Dad's or colour it on!
4. Stick on googly eyes
5. Stick your face onto your card and add the writing to the front of the card such as 'Happy Father's Day'
6. Add other embellishments
7. Also you can print out our printable ''All About My Amazing Dad" to add to the inside of your card.


Make Father's Day (or Dad's Birthday) extra special with this wonderful Homemade Card for Dad! We love easy Father's Day Crafts for kids. Hooray.
---