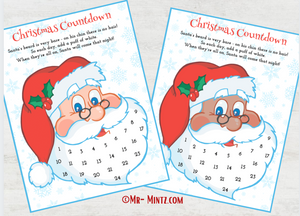 Christmas Countdown Printable: Time to Count Down
If your kids are the kind that keep asking, "How many more days until…" you know that Christmas Advent calendars are a lifesaver for getting through the days leading up to the big holiday.

Pick up one of these printable Christmas advent calendars to count down to Santa's arrival! Download it today and update daily. Use stickers, pom poms, cotton balls to decorate or simply colored in with crayons or markers.
Three ways to countdown till Christmas
Supplies: 
Printer
White Cardstock
Crayons
Scotch Tape or Stapler
24 Cotton Balls (we used 12 and cut them in half)
Double sided tape or glue
1. Print one of these Christmas Countdown on cardstock. You could also use regular paper, but it won't be as sturdy and may be difficult to hang.

2. To hang, punch a hole in the top center of the paper. Run a string or ribbon through and hang on a thumbtack or nail.

3. Have your child/children glue a cotton ball (pom poms, stickers etc) on Santa's beard or Christmas Tree each day starting December 1st, all the way to Christmas Eve!
Santa's Beard Countdown Calendar (both versions are included!)
Just click on the image below and download the PDF to print out your own Santa Beard so you and your kids can countdown to Christmas!
Download Santa's Beard Countdown Calendar (both versions are included!)
Each day, have the kids glue a cotton ball onto Santa's beard. On Christmas Eve it'll be completely filled in. This is just a fun thing for the kids to do, and another way to hopefully get them to stop asking "How many more days until Santa comes?!".
Christmas Tree Countdown Calendar
Just print this Christmas Countdown Calendar and hang it on your wall by December 1st. Decide what your child will use to cover one number each day. We used colored pom poms with glue but you can easily use stickers or just have your child color one circle each day.
Santa's Beard Countdown Calendar (for coloring)
Print out your countdown printable and color Santa's hat and face. (you can even add some glitter for fun!) Starting December 1st, glue a cotton ball on the date. Continue through December 24th, and when Santa has a full beard that means he's coming to deliver presents that night!

Love it!
---