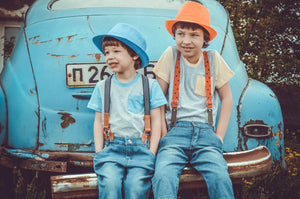 8 super fun and cheap best road trip games for kids
 Are you getting prepared for an upcoming family trip? It's great news! But you have one problem. It is your kids. They tend to get bored rather quickly, whether you're driving in a car, RV or flying in a plane. Want you to have to hear "Are we there yet?" or "How much longer?" a million times? By planning ahead with some travel activities, you can save yourself a lot of headache, and you and the children can actually enjoy the trip.
Traveling is expensive but we can help you to save you money.  Here are 8 very fun and cheap activities for kids to do in a car or plane.
ARTS AND CRAFTS FOR CAR OR PLANE RIDES UNDER $8
1. Wikki Stix
Wikki Stix One-of-a-Kind Creatables are the timeless toy for hands-on fun and traditional play…plus perfect for road trip activities. More fun than a toy…more creative than a craft!
 Over 30 Fun Learning Activities for Kids - Coloring Pages, Word Search, Mazes, Dot to Dot, Find the Differences, Symmetrical Drawing! This gorgeous children's coloring learning book is full of happy, smiling, beautiful wild animals including panda, tiger, camels, snake, polar bear. Suitable for both boys and girls, this activity book makes a great travel book or vacation workbook. Take it along on those long plane or car rides to pass the time.
A new Activity Coloring Book for Kids Ages 4-8 «Unicorn, Pandacorn, Puppycorn, Caticorn and More Magical Animals» includes 63 FUN ACTIVITIES: coloring pages and a fun activity learning pages with dot to dot, mazes, find the differences, word search, symmetrical drawing and more. If your child loves unicorns and all magic animals, rainbows and flowers, then order your copy today!

Now kids can color anytime and anywhere, mess-free! Color Wonder ink only colors on this special Color Wonder paper. This package contains one 13-3/4x8-5/8x1/4in tablet with thirty pages of mess-free coloring fun.
Designed for children ages 5 and up, Paint by Sticker Kids: Zoo Animals uses low-poly art—a computer style that renders 3-D images out of polygon shapes—and removable color stickers so that kids can create 10 vibrant works of art. The stickers are larger, as befits the younger audience, and the card stock pages are perforated for easy removal, making them suitable for displaying.
ROAD TRIP GAMES UNDER $8
Take 'N' Play Anywhere games feature big magnetic playing pieces that are easy for kids to use and hard for kids to lose! The convenient 6 3/4" square tin case makes it easy to slip the games into most bags to take everywhere and keep kids entertained on a very long trip!
Put the laws of motion to the test with our patented Q-BA-MAZE 2.0 Stunt Sets. The ingenious pieces interlock in endless configurations, while double-exit cubes keep you guessing which way the marbles will go. Experiment to see what kind of zany, zigzagging action is possible! Includes 108 cubes, 2 Cascade Stilts, 2 Coaster Tubes, 1 Marble Vortex, 1 Pivot Trampoline, 30 steel marbles and color instructions.
 20 creative, mosaic pictures with hundreds of colorful shape and photo stickers. This kit contains 20 square pictures, each packaged separately with their own stickers.
8. Card Games 
Hoyle card games are 6-pack features a few of your favorite games – and some you'll delight in learning along with your young ones. Go Fish, Slap Jack, Memory, Matching, Old Maid, and Crazy Eights. Appropriate for players as young as 3!
Do you liked our Super fun travel games and accessories for children? Make your boredom-busting busy bags now!
This post contains affiliate links. If you choose to buy something using my link, I earn a small commission at no extra cost to you. However, I only promote things that I love and think you will love, too.
---