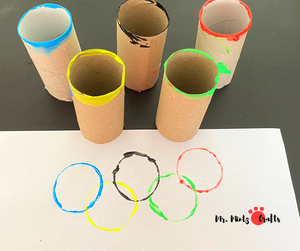 5 Simple Olympic Crafts for Kids to Make
Sporting events are a great way to get children involved in crafting. They capture their imagination and are brilliant for involving children that don't want to craft. Perhaps they are more interested in sport than art and crafts but combining the two makes for fabulous fun for everyone.

Celebrate the spirit of the Olympics with these Outstanding Olympic Crafts for Kids! Learn about countries, sports and cheer for your favorites!
Fallen Petal Olympic Torch 
Olympic torch you can do by sticking down foil and fallen petals from the garden. The rings are made from sections of toilet roll! Download our FREE Olympic Torch Template here.
How To Draw The Olympic Rings
Let's get into the Olympics mood with everything! Look at these stamps for the Olympic events. Simple, easy and really cool for our little ones.
Olympic Torch Handprint Craft
This is a really fun and simple project by DLTK to suit an olympic theme. Children can use their handprints to make the flames of the olympic torch! This craft would make an excellent decoration and a cute keepsake.
Handprint Olympic Rings
Little hands, little hands and more little hands! In an Olympic climate, let's make the Olympic rings with the little hands of our little ones, they'll be beautiful.
Great idea by @educacao.infantil.oficial
 The Breakfast of Champions
The Olympic torch continues to burn bright! The breakfast of champions in its honor! Great idea by @creative_household
---