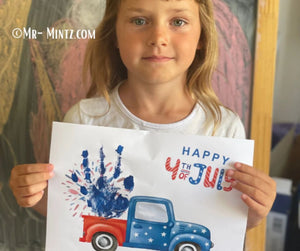 4th of July Handprint Crafts: Fun and Patriotic DIY Projects for the Whole Family
The 4th of July is a time for celebration, fireworks, and family fun. What better way to commemorate this special day than with handprint crafts that capture the spirit of patriotism? In this article, we'll explore some exciting and easy-to-make 4th of July handprint crafts that are perfect for the whole family. These crafts not only provide an opportunity to bond with your loved ones but also serve as memorable keepsakes for years to come.
Sparkling Fireworks
Let your little ones create their own fireworks display using their handprints as a base. They can add colorful glitter to mimic the explosion of fireworks in the night sky. This craft is a great way to unleash their creativity while learning about the significance of fireworks on Independence Day.
Download Firework Handprint Template
Patriotic Truck
Rev up the holiday spirit with a handprint craft featuring a festive fireworks truck. This craft encourages imaginative play and serves as a fantastic centerpiece for your 4th of July decorations.
Download Firework Truck Handprint Template
American Flag Keepsake
Celebrate the stars and stripes with a handprint American flag craft. Using blue and red paint for the handprints, and white stripes for the flag, your kids can create a beautiful and meaningful keepsake. Add the stars, and watch as their eyes light up with pride in their patriotic creation.
Download Flag Poem Handprint Art
Majestic Eagle
Pay tribute to the national bird of the United States with a majestic eagle handprint craft. By using their handprints as the wings, your little ones can create a soaring symbol of freedom and strength. This craft is not only educational but also helps instill a sense of national pride.
Download Eagle Handprint Template
This 4th of July, let your family's creativity take flight with these engaging handprint crafts. From sparkling fireworks to patriotic symbols, these crafts offer a unique way to celebrate the holiday while creating cherished memories. Whether you display them as decorations or keep them as mementos, these handprint crafts are sure to be a hit with both children and adults alike. So gather your supplies, roll up your sleeves, and let the crafting fun begin!
Remember, the real beauty of these crafts lies in the process and the joy they bring to your family. Happy crafting and have a wonderful 4th of July!
---