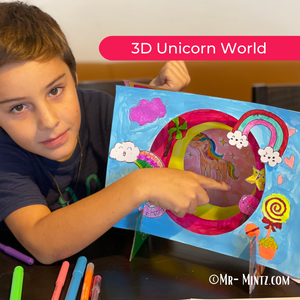 3D Unicorn Craft for Kids: How To Make Spellbinding World of Unicorns
Are you ready to make some magical unicorn craft for kids? This printable unicorn pages is such a gorgeous craft for kids! Young girls will have so much fun colouring these unicorn cutouts and then putting together theirs own spellbinding world of unicorns. All you need to do is follow these easy instructions to create magical 3D project of unicorns! No additional tools are required.
Use the following materials for this project:
Ordinary paper (use it to print out our templates with donut, star, rainbow etc)
Hard paper to make the background of the Unicorn World (you can use a cardboard package, cereal box, or watercolor paper)
Felt pens (to color donut, star, rainbow etc)
Paints (to color the background)
Glue
Cardboard (to make the holder)
Follow the below steps:
Download and print out our templates on ordinary printing paper.
After that, glue them onto the cardboard sheet or cut them out to use them as a template to draw the circles on the cardboard sheets. Download the templates here.
Cut out the circles and color them with paints.
Color and cut out donut, star, rainbow etc with felt pens. Use your favourite art materials and colours. 
5. Take the cut elements and glue them one by one to the cardboard sheets. Use our ideas to inspired.
6. Take any cardboard box you have at home (like a pizza box), and cut out the base for your Unicorn craft.
7. Put the your own Unicorn World on the holder, place the sheets one after another – from the biggest circle to the smallest one.
---