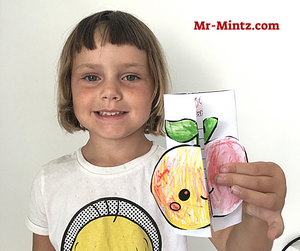 3 Easy Rosh Hashanah Crafts for Kids
The Jewish holiday of Rosh Hashanah is coming up in exactly two weeks, so now is the time to get started with the preparations! Even if you've never celebrated the Jewish New Year before, these Rosh Hashanah crafts and activities are fun for all your family. No special tools or skills are required, so anyone can make these! 
Fish, apples, honey and pomegranates are traditional symbols of the holiday that signify a sweet and prosperous upcoming year. These crafts for kids can be used as décor to make the home and Seder table feel more ceremonious during the most special time of the year.
Easy Rosh Hashanah Fish Card
Materials: 
Directions:
Download template by Mr. Mintz.
Print out our cute fish printable.
Have the kids color it in (a fun paper craft and a coloring page in one).
Fold it and have fun closing, opening and reading Rosh Hashanah Greetings! 
Fish Craft with Cotton Pads and Liquid Watercolours
Materials: 
Free template by Mr. Mintz 
Cotton Rounds 
Glue
Droppers/Pipettes 
Liquid Watercolors (you could use food colouring)
Directions:
Download and print out free template by Mr. Mintz.
Glue the cotton wool pads into a fish template.
Dilute liquid watercolor with water in individual containers and provide large droppers. Alternatively, provide a liquid watercolor set and paint brush.
Task your kids with using a dropper to soak up the liquid watercolor and drop it onto the correct cotton pads.
Pomegranate, Apple and Bee Folding Cards 
Materials: 
Directions:
Download and print out template by Mr. Mintz 
Cut out the card.
Сolor the card as you like
Fold each half of the image over the written area of the card  as shown in the picture.
Happy crafting and L'shana Tova! 
---