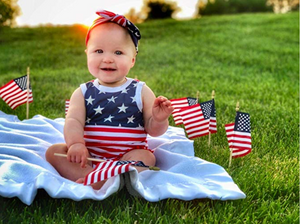 19 cheap and easy patriotic party decor ideas
If you're hosting a 4th of July party, you might be feeling overwhelmed because, let's be honest, planning a party can be a lot. Not only do you have to come up with activities to keep your guests entertained, but you decorate your home, patio and prepare a menu that everyone will like.
Lucky for you we're here to help! Check out these 4th of July party ideas can help you plan a successful event, whether you're doing something low-key with your family or hosting the neighborhood block party.  We hope you enjoy all these cheap, fun and easy 19 Amazing Fourth Of July Party Ideas!
PATRIOTIC PATIO AND HOME DECOR

1. When you hang this fan flag up on your porch or deck. It will instantly catches the eyes of your neighbors or anyone who walks by. It's time to display your patriotic spirit the right way!
2. These red, white and blue balloons can be used to decorate the rooms or front your house.
 3. Unique artwork on big floor cushions that are perfect for a patriotic party. The covers have hidden zipper closures, are printed front and back, and are totally washable. Laziness never looked so good.
4. Red White Blue Hanging Paper Fans are ideal when clustered together as a backdrop, hanging from a wall, a tree, a curtain or a door. It's also a good idea to add color, texture and glamour to your bedroom or pavilion.
 5. 40 Inch American US Flag Windsock, Stars & Stripes USA Patriotic Decorations - Embroidered Stars and Fade Resistant - 3.3 Feet
6. I just liked this Panda American flag Clock!
7. LED lights perfect to both indoor and covered outdoor spaces, create a fun, pride and glory ambiance for your independence day celebration, party or family get-together.
DINNER DECOR IDEAS FOR JULY 4th
7. Patriotic Party Pack for 50 Guests - American Flag Design Includes 50 Dinner Plates, 50 Dessert Plates & 100 Luncheon Napkins! Made in the USA!
8. Keep your drinks cold for your patriot friends on your 4th of July party! This Patriotic Inflatable Buffet Cooler has a clear drain plug on bottom, so you can drain water from it after the ice melts or when you finish using the product.
PATRIOTIC ACCESSORIES IDEAS FOR JULY 4th
10. Patriotic red, white and blue slotted sunglasses are unisex and look great on anyone that fits the size measurements. Designed with a detailed USA flag pattern on each horizontal shutter style lens. Made from a light weight plastic and does not alter vision.
11. Show off your patriotic side with these July 4th themed temporary tattoos featuring American flags, fireworks, eagles and more!
12. American Flag Bandana is the ideal patriotic apparel item for men, women and kids. The best for 4th of July!
THE AMERICAN FLAG
13. 4x6 US Flag Made In US: 100% American Flag. Don't fall Victim to "Cheap China Knock Offs". This Flag is an Original Grace Alley American Made Flag. When you display this US Flag, You will feel the Pride with this American Flag. Fly Your US Flag Proudly. This American Flag Ships From Amazon and comes with the Amazon "A-to-Z Guarantee Protection".
14. The American flag light is really big and looks amazing on the wall, pond, yard, home, porch, fence etc. At night, with 420 high-efficiency super bright LEDs glow in red, blue and white, your beloved family, friends or neighbors will be very surprised to see this beautiful flag light.
 4TH OF JULY CLOTHES FOR WOMEN AND MEN
15. The very cute idea -  American Flag with panda bear on sleeveless top!
16. Very pretty t-shirt and actually stays off the shoulders and tied all day. Light fabric so cool on hot days without being see thru. Looks great on plus size girls.
17. Wear this Panda American flag Classic T-Shirt to your next patriotic festive event or a simple BBQ on the 4th of July, perfect for any American!
Usually kids just dressed in red, white and blue from whatever they had in the closet… but one look at this adorable roundup of 4th of July clothes for kids.  You will think twice and wish there was more than one day to dress them alike! If you plan ahead… you can have them "dress up" for 4th of July.
18. Nice and very patriotic outfit. This romper is a must-have for July 4th or any other occasions.
19. Very cute American flag with panda Kids T-Shirt!
SO, LET YOUR SPIRIT SHINE AND SECURE YOUR PATRIOTIC 4TH OF JULY PARTY FROM AMAZON
---