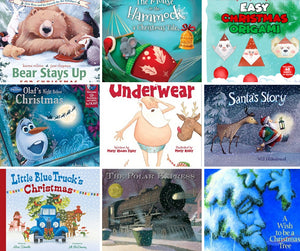 10 The best Christmas books to read on Kindle Unlimited
If you're looking for a book to read during the holidays that will get you in the Christmas spirit, here is a list of 10 of my favorites. You can read each of these books for free at Kindle Unlimited or Amazon FreeTime Unlimited.
It's Christmas Eve and Santa is busy getting gussied up for the big night. But when he goes to put on his warm, cozy (holey, ragged) Christmas underwear, they're nowhere to be found! With undies for every occasion, he tries on the rest of his collection. But nothing is quite right. Just when he's about to give up he find a surprise from his considerate team of reindeer.
Read on Amazon 
 "How to obey shopping rules" is a book of twin siblings, Emma and George, of different traits and behavioral attitudes. On a special trip to the supermarket before Christmas kids learning the instructions that guide their actions when shopping with their parents.
Brightly illustrations and simple text combine to make a wonderful book about kids conduct during shopping. You can find colorful pictures detail the twins, supermarket, parents and more.
Read on Amazon
Revel in the joy of Christmas and spread the holiday cheer with this amazing origami storybook and kit! Easy Christmas Origami is a special kit that was designed to be an inexpensive alternative to the paper book. It consists of an engaging Christmas story and contains a link in the book to download awesome templates for free so you can print them out and fold for play or decoration your home.
Even if your kids are complete beginners to the art of making origami, Easy Christmas Origami is a special kit that is designed to keep your kids creatively engaged this winter!
Read on Amazon
It's the night before Christmas, and all through the house, not a creature was stirring...Then a mysterious noise wakes Olaf. Join Olaf as he investigates the sound and finds a truly magical surprise. With charming illustrations and holiday cheer, this book is sure to make your Christmas unforgettable.
Read on Amazon 
This charming tale of an overgrown pine always being passed by for Christmas, and what his woodland friends do to help him, is sure to become a Christmas classic. With delightful illustrations by wildlife artist Michael Monroe and enchanting text from Colleen Monroe, the birds, deer and squirrel of this story help make their special friend's wish come true.
Read on Amazon 
Through dark forests, over tall mountains, and across a desert of ice, the Polar Express makes its way to the city atop the world, where the boy will make his Christmas wish. For millions of readers worldwide, this mysterious journey to the North Pole has become a beloved classic. In this 30th anniversary edition, the inimitable artistry of Chris Van Allsburg is revealed in a never-before-seen fashion, with a new jacket design and expanded interior layout. Includes an author's note.
Read on Amazon 
It's the most wonderful time of the year! Little Blue Truck is spreading cheer by delivering Christmas trees to his animal friends. Can you help count each green tree from one to five and back again? Don't forget to save one for Blue! Beep! Beep!
With the gentle rhythm and signature illustration style that made Little Blue Truck a household name, Blue's new adventure is full of holiday warmth. Sturdy cardstock pages, a compact and child-friendly text, and flashing colored Christmas lights on the final page come together in a novelty gift book that's sure to be the favorite treat of the season.
Read on Amazon 
Santa is ready to leave on Christmas Eve, but he can't find the reindeer anywhere. Dasher is busy dashing, Donner is dozing, and Cupid is crooning. It isn't until Santa remembers their annual tradition—reading a Christmas story together—that the reindeer are ready.
Reindeer merriment abounds in this charming yuletide tale about honoring the celebration of holiday customs with those you love.
Read on Amazon 
Bear's friends are determined to keep Bear awake for Christmas! So they wake Bear up and have him help them find a Christmas tree, bake cakes, hang up stockings, and sing Christmas songs. Bear stays up—by discovering that giving is one of the best Christmas presents of all!
Read on Amazon 
A book that teaches children how Small Acts of Kindness can make a big impact. In this book, a little mouse who sleeps in a Christmas Tree hammock scurries around the house at night doing good deeds to prepare the house for Christmas.
Good deeds include, tucking Baby Jesus into the manger, cooling off the hot cocoa for Santa, taste testing the cookies, hanging the mistletoe. Mouse is setting the example for children that you don't have to be big to do kind deeds and help others.
Read on Amazon 
These are the 10 most popular children's Christmas books that you can read for free at Amazon Kindle Unlimited. And a bonus for adults - 20 Best Cocktails & Mixed Alcoholic Drinks Recipes for Fun Сhristmas Party.

Christmas is a pretty big deal in most parts of the world, especially the US and no holiday is ever complete without a drink to make the freezing winter weather fun. In this little book, you're going to discover 20 of the very best Christmas cocktails to toast the holiday with. 
Bonus: 12 Free Printable Christmas Signs To Decorate Your House For The Holidays.
Read on Amazon
Merry Christmas!

This post contains affiliate links, which are at no extra cost to you.
---